Do you have what it takes to be the next
EL JEFE CHAMPION?

On April 6th, 2017 in observance of National Burrito Day, Taco Bus will invite 10 qualifiers to compete for the title of the El Jefe Champion while their friends and family cheer them on. Prizes to include Taco Bus T-shirts, swag, gift cards, and a customized, certified, one-of-a-kind Taco Bus El Jefe Champion belt!
How to Enter
From March 18th-31st, come visit any of our 7 Taco Bus locations and purchase an El Jefe burrito. If you can successfully complete it in under 15 minutes, you may ask a Taco Bus employee for an El Jefe Qualifier certificate. That certificate will contain a code, a magical code that you must enter on our website in order to be considered a finalist.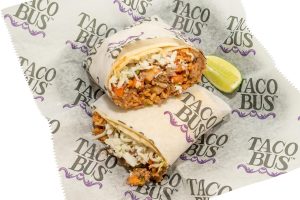 During qualifying period (March 18th through 31st), fill out the El Jefe qualifier form below, making sure to include the store code, your name & email address, and El Jefe burrito eating time!
The successful qualifiers will be notified on Monday, April 3rd and invited to the Final Event at the Taco Bus when they will face off with the other finalists and compete for the Championship!
Must be 18+ years old to enter. For Official Rules and Regulations, click here.
The Prizes
First Place: The 2017 El Jefe Championship Belt and a $250 Cash Prize.
Second Place: $150 Cash Prize
Third Place: $50 Cash Prize
Fourth and Fifth Place: $25 Cash Prize
The Main Event
History will unfold at the Original Taco Bus on Thursday, April 6th 2017 as the El Jefe finalists sit down and prepare to face their destiny.
10 Finalists will be invited to the main event where they will be presented with a fresh, El Jefe burrito that they must conquer before their competitors do.
The one with the fastest completion time will become the 2017 El Jefe Burrito Eating Champion and will be awarded with the fame and glory of the Grand Prize… the El Jefe Championship Belt and 2017 title!
When: April 6th 2017 at 6 pm
Where: "OG" Taco Bus. 913 Hillsborough Ave, Tampa.
The El Jefe Burrito
El Jefe is one of Taco Bus' most prized menu items. Weighing in at nearly 2.5 lbs, El Jefe is a beloved favorite of burrito aficionados around the world. The burrito is made with two tortillas, double rice and beans, cheese, sour cream and guacamole! A portion of the proceeds are donated to local first responder charities.